My Fair Lady is based on George Bernard Shaw's Pygmalion, a play about Henry Higgins, a professor of phonetics, who wagers he can within six months transform cockney flower seller Eliza Doolittle so that she'll pass for a Duchess. In turn, Shaw's story was inspired by Ovid's story about a king who fell in love with a statue which came to life. My Fair Lady itself has undergone a fair few transformations over its 60 year history: here's more on this marvellous show's story to date.
1. Shaw's play was the first time that the expletive "bloody" was ever heard on British stage
When it fell from the lips of Mrs Patrick Campbell at His Majesty's Theatre on April 11th 1914, the audience apparently gasped on hearing it. The press were outraged that the fragrant Mrs Pat should utter such a word in public and respectable audiences should hear it.

Amara Okereke and Harry Hadden-Paton, the latest pair to play Eliza Doolittle and Professor Higgins. Photo by Hugo Glendinning.
2. It almost never got made into a musical
Alan Jay Lerner and Frederick Lowe were not the first to try. Oscar Hammerstein II and Richard Rogers had tried and declared it impossible. It clearly wasn't because My Fair Lady opened on Broadway in 1956 with Julie Andrews playing Eliza and Rex Harrison as Higgins. Harrison was second choice for the role: the part was offered to Noel Coward who turned it down. On opening night Harrison was badly afflicted by stage fright and had to be coaxed out of his dressing room.
3. Julie Andrews lost out on the role of leading lady in the movie
Harrison went on to star in the movie version but Julie Andrews (who also starred in the 1958 Theatre Royal, Drury Lane) was passed over for the role in favour of Audrey Hepburn whose singing voice had to be dubbed. Andrews had the last laugh winning an Oscar for best actress for her role in Mary Poppins which was released the same year. In 2016 Andrews directed a near replica of the 1956 Broadway production for Opera Australia. Great if you like museum pieces.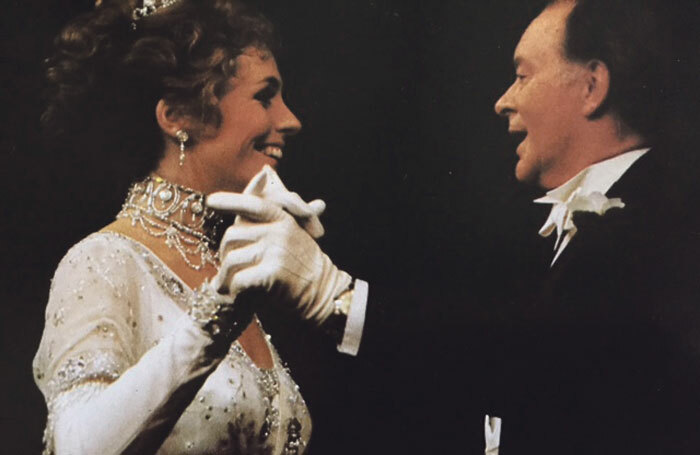 Liz Robertson and Tony Britton in a 1979 revival of My Fair Lady. From The Stage Archive
4. Cameron Mackintosh has produced two London revivals, two decades apart
These include one in 1979 which starred Liz Robertson as Eliza and one directed by Trevor Nunn at the National Theatre in 2001 which starred Jonathan Pryce as Higgins and former EastEnders actor Martine McCutcheon as Eliza. It transferred to the Theatre Royal, Drury Lane. But although McCutcheon won an Olivier for her performance and was reportedly earning £10,000 a week she was very seldom performing it because of illness.
Mackintosh was not sympathetic saying she wasn't up to the demands of the West End. "However wonderful she was on the occasions she would deign to come in, you can't run a show like this," adding that the cast never knew who they would be playing opposite. McCutcheon went onto to star in the movie Love Actually.
McCutcheon's absence paved the way for understudy Alexandra Jay and subsequently Joanna Riding who took over the role to really make their mark. Alex Jennings took over the role opposite Riding and in a subsequent interview said: "At the end of the run it felt the same as when I did Hamlet…I didn't want to let go of the role—it had become part of my life."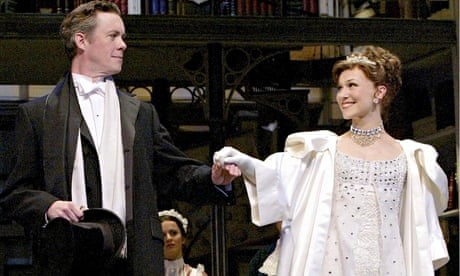 Alex Jennings and Joanna Riding in My Fair Lady. Photograph: Ray Tang/Rex
5. Unlike My Fair Lady, Shaw's original play Pygmalion did not have a romantic ending.
In later interviews Julie Andrews made it clear that if she had won the role in the movie version she would have been a far less malleable leading lady than Audrey Hepburn, whose Eliza allows herself to be sculpted by Higgins.
6. The new production of My Fair Lady empowers its Eliza
The 2018 Lincoln Center revival of My Fair Lady directed by Bartlett Sher (who will direct the London Coliseum Production and directed the London revival of The King and I) presents Eliza as a woman who the New York Times declared "is as powerful a woman as her circumstances permit." The production, declared critic Jesse Green, used the current re-examination of sexual politics "to restore the show's feminist argument—so lively in Pygmalion—but also to warm it up considerably." The show has a resolution which may surprise some only familiar with the movie.
7. But leaves the geographically inaccurate charms of the original show intact
It's got an absolutely brilliant score including 'I Could Have Danced all Night' and 'On the Street Where You Live', but while the 'Rain in Spain' may be catchy and joyous it is not strictly accurate. The rain in Spain definitely doesn't stay mainly on the plains.
My Fair Lady comes to the London Coliseum from 7 May to 20 Aug 2022. You can find tickets here.
Cover image from the Lincoln Center Theater 2018 revival of My Fair Lady. Photo by Sara Krulwich/The New York Times