Do you remember being a teenager? Do you recall how alive you felt? How invincible? The intensity of the friendships you had, and how you felt bound to those people and thought those friendships would last forever? Kentucky-raised but UK-based playwright Naomi Wallace captures those feelings in all their heart-stopping force and passion in her latest play, The Breach, which opens at Hampstead Theatre this week.
Set in Kentucky, and alternating between the 1970s (when the Vietnam war was happening) and the early 1990s (when the first Gulf War took place), this vivid four-hander focusses on Jude, the sparkiest of teenagers. Jude's dad died in an industrial accident, her mother is barely coping - and certainly not bringing in enough to cover the rent - and her younger brother Acton is a really smart kid with prospects, but he's being bullied at school. Jude will do anything to keep her brother safe and keep her family together and she is full of bravado and confidence she can do it.
"I hesitate to say that this play is autobiographical, because it is not, but I would say that this play is closer to home and closer to my youth than my other plays," says Wallace who has always written with such ferocity and tenderness about love, desire and the body in a rich range of plays that include the glorious One Flea Spare, And I and Silence, and The Trestle at Pope Lick Creek.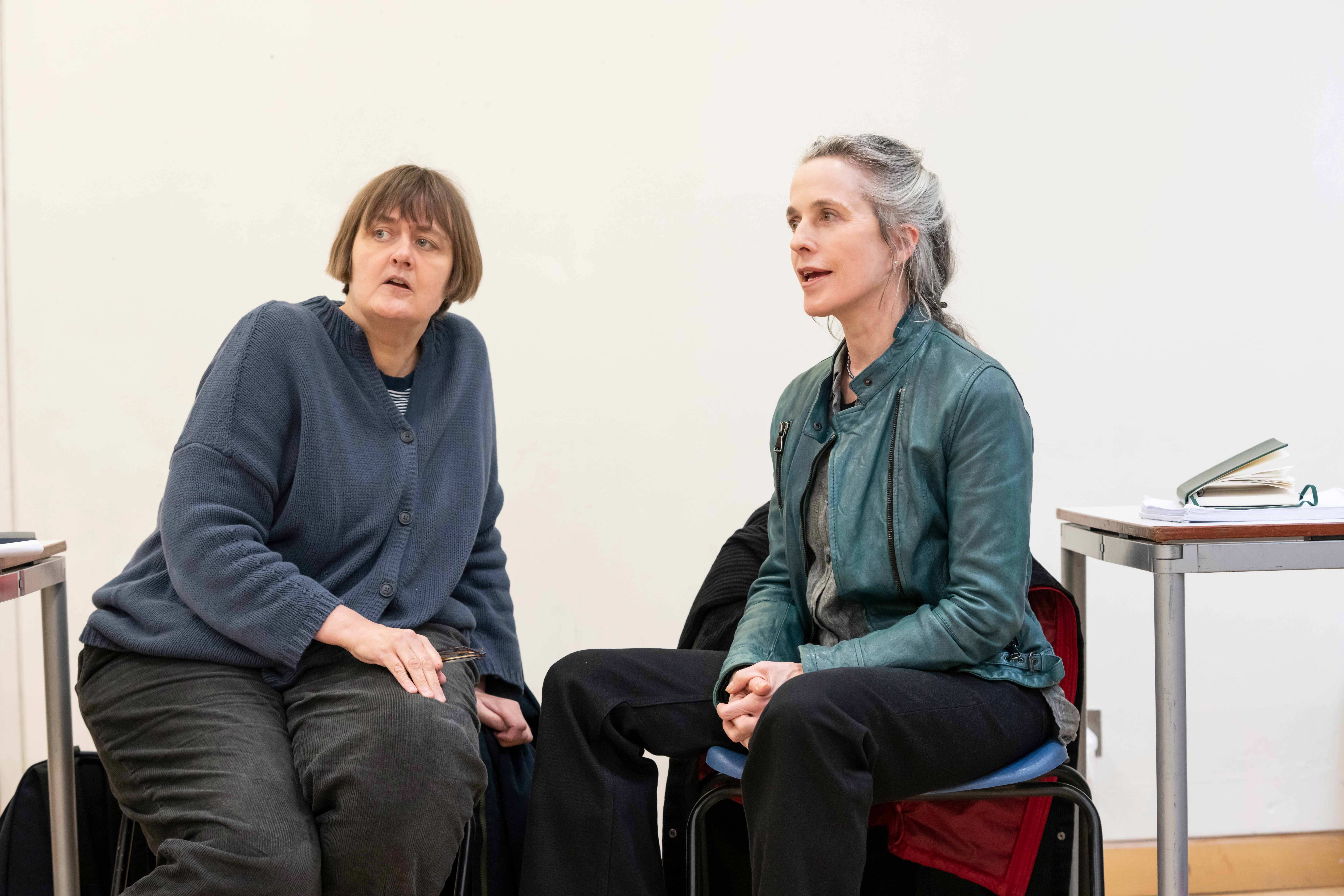 From left to right, director Sarah Frankcom and playwright Naomi Wallace in rehearsals for The Breach. Photo by Johan Persson.
"I grew up in communities like the one I have written about in The Breach, and we were pretty wild, and very mixed too. The poor and the wealthier ran together, and none of us cared what our parents did or didn't have in the bank. But what changed is that once we graduated from high school, some of us went off East to college and some didn't and went out to work. When we came back after that year everything was changed, we were no longer that tight grouping."
In The Breach it is not just going off to college or staying at home and going out to work that causes the fissure in the relationship between Jude, her brother and two male friends, but a moment of tested loyalty that results in violence as the group attempt to prove their allegiance and love to each other. Love and something more shocking and warped are strange bedfellows here. The Breach is fascinating as a dissection of the American Dream and how a tightknit quartet of young people slowly discover the powerful social and economic forces will mould their lives in ways they never imagined.
"When I was young growing up in Kentucky, we were taught that we were all equal and we were all born to win," says Wallace. "When you are young you think that you have choices, you think that you all have opportunity, and you don't realise how limited those choices and opportunities will be for some. The individual is valorised in mainstream society and in popular culture. You learn that with focus you can be a winner, but not everybody can. Half the people I grew up with-- those teenagers I loved-- are dead now from drug overdoses or suicide. I wanted to look at what happened to them."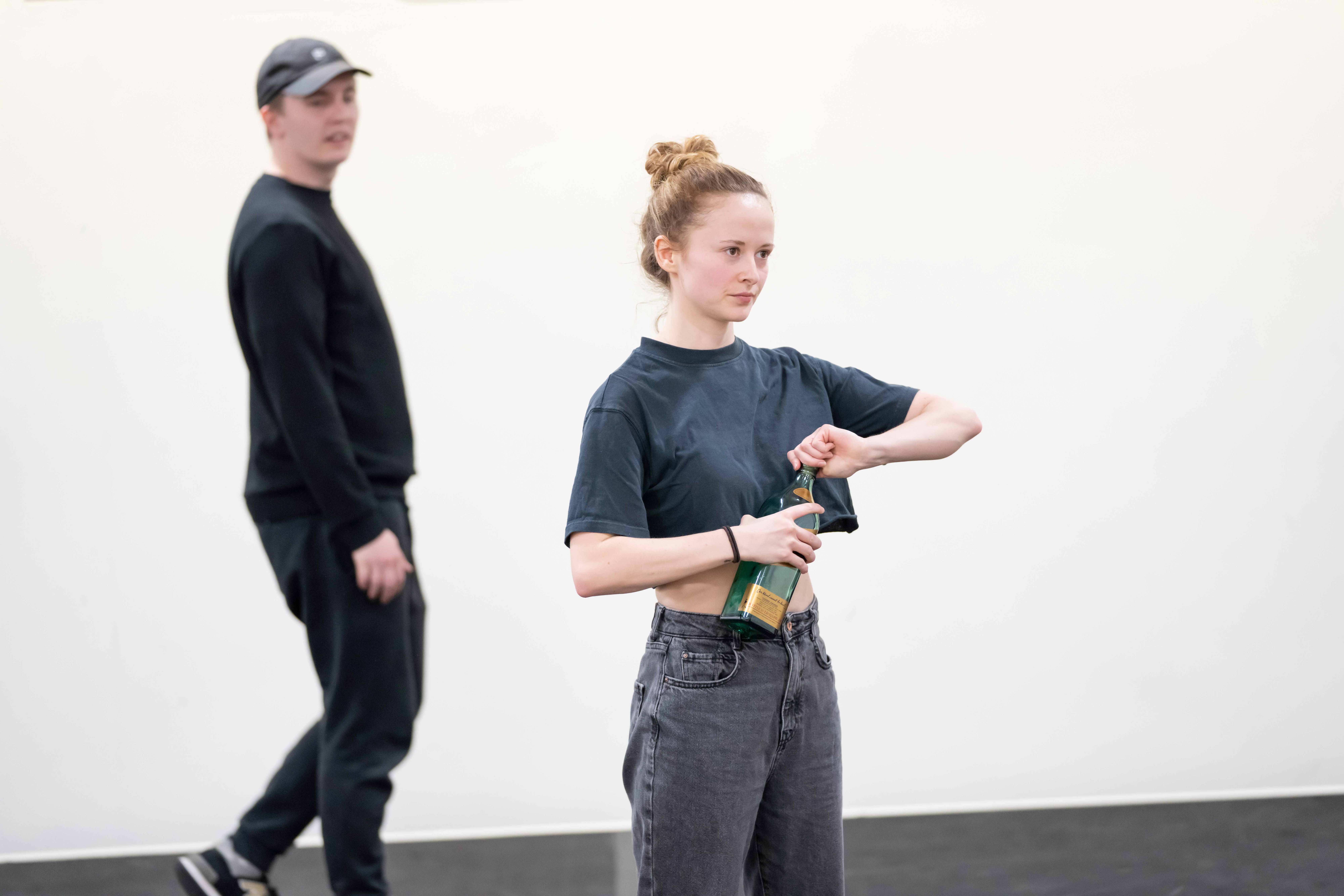 Charlie Beck and Shannon Tarbet in rehearsals for The Breach. Photo by Johan Persson.
If that makes The Breach sound dark, it is, but it is also funny and full of delicacy and poetry. It is spare and steely too. "No one cries in this story," says the stage directions. Wallace has always been a writer whose plays are fuelled by political anger about the injustices of a society that crushes the Judes of this world in The Breach or the meat packers in Slaughter City, but the reason the plays sing is because that anger is carried by characters and relationships which are deeply felt and tenderly realised. Wallace is a playwright who makes the audience care. Maybe that is because her dramas don't have polemic but something more powerful embedded in their fat ragged hearts.
"My plays," says Wallace, "always have friendship and love at their centre and how that friendship and love is shaped and sometimes deformed."
The Breach is the first of a trilogy of plays which Wallace is writing which are set in working class communities in Kentucky. But while she frequently travels to the US, she is now firmly rooted in Yorkshire.
"I was thinking the other day how I am closer to Kentucky here in Yorkshire than I've ever been. Yorkshire is a place where I am very happy. I have a workshop where I write in the garden and I look out at the grass and the fields and the farms and they are like the grass, the fields and the farms I knew in Kentucky. Of course, memory is always unreliable but the imagination isn't. All I need as a playwright is a place where I can let my imagination be free, and in some ways being away from Kentucky and in Yorkshire allows more freedom for my imagination."
Cover image from The Breach which opens on the 6th May at Hampstead Theatre. Tickets can be found here.