As the poet Robert Frost observed "the remarkable thing about Shakespeare is that he really is very good, in spite of all the people who say he is very good." Sometimes it can feel as if you can have too much of a good thing. Particularly when it creates a production culture of awed reverence. Over the years I have wondered whether UK theatre might call time on Shakespeare, at least for a year or two.
But the arrival of several productions in London suggest that something interesting is happening to the way British theatre approaches these plays. We no longer seem quite so in thrall to the poetic and textual ghosts clanking about in the basement, and are starting to ask - if the plays of Ibsen and Lorca can be reinvented (think Yerma at the Young Vic), then why not Shakespeare's too?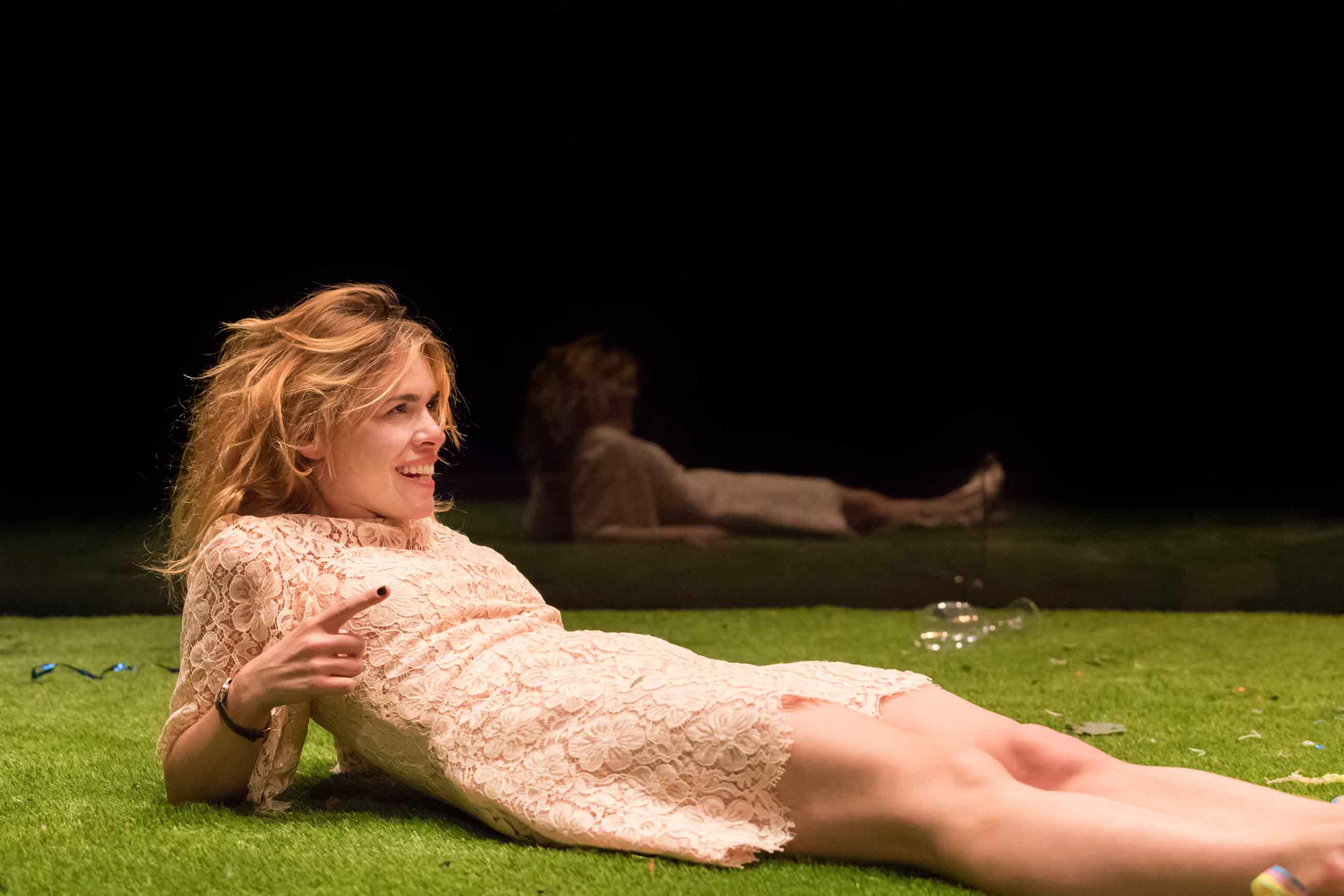 Billie Piper in Yerma, 2016. Photo by Johan Persson.
Done vividly (think of the Donmar's 2016 all-female Shakespeare trilogy) the results can make us look at the plays afresh and suddenly see them not as something from the past but plugged directly into the 21st century. That's no more apparent than in Josie Rourke's staging of Measure for Measure at the Donmar, which premiered the same week that Christine Blasey Ford gave her testimony to the Senate in Washington.
"Who will believe thee, Isabel," asks Jack Lowden's silkily repellent - but horribly plausible - pony-tailed Angelo who suggests that he could step in to save the soon to be executed brother of novice Isabella (Hayley Atwell). But only if she sleeps with him. This Angelo thinks that he is so untouchable that there is even a male witness present in the room when he makes his proposal. When it comes down to it, these men in power will always stick together.
Rourke's production plays the drama twice over—the first time in Elizabethan costume giving a swift pared back account of the story. So far so familiar. But in a moment of thrilling theatrical brilliance, which I won't spoil, Isabella's silence at the end of the play is shattered, and both play and time splinter into shards and we are suddenly in a contemporary 21st century corporate world. Here, Angelo—a recovering addict who has joined some kind of Christian fellowship—is cast as the victim of Isabel who has been promoted, much to the chagrin of her male colleagues.

Nicholas Burns and Hayley Atwell in Measure for Measure. Photo by Manuel Harlan.
In less able hands this might simply be concept Shakespeare, but in this performance it is ingenious and intelligent Shakespeare with a context. Because although some in the play are more sinned against than sinning, everyone is a victim, caged by a patriarchy which allows misogyny and corruption to flourish in both church and state — and which distorts personal relationships too.
There is a moment in the first half when Atwell's gravely serious, shiningly direct Isabella puts her hand on Angelo's chest. For a split second he is overcome by panic before realising that his heart can never be reached because he hasn't got one. Power and patriarchy have withered it.
It is quite a big ask to expect the audience to sit through the same play twice. But if you stay alert to the subtle textual changes as well as the shifting sexual politics — in which the carnal activity of men and women is treated so very differently — this gradually blossoms into a galvanising evening pulsating with rage that, 400 years since it was written, so little has changed. It's enough to make you scream.
Rourke's production suggests that when we cannot find our way out of a room because it is full of distorting mirrors we are doomed to repeat ourselves and keep telling the same old stories. Jude Christian is trying to change those stories in OthelloMacbeth at the Lyric Hammersmith. "Oh sister, when you gonna learn it's all about a man?" sings a woman soulfully looking down on the action. But does Shakespeare production always have to foreground the eponymous anti-hero?
Katie Mitchell gave us Hamlet from Ophelia's point of view in Ophelia's Zimmer, and now Christian's cut down, back to back versions — played with an almost cinematic jump-cut urgency — offer another perspective as they suggests that the behaviours of the men in both Othello & Macbeth stem from the same source: toxic masculinity.
OthelloMacbeth has had some sniffy reviews and, to be honest, some of the acting is not always as sharp as it should be. But Christian and her team deserve credit for taking a theatrical tin opener to the plays and removing them from the weight of hundreds of years of performance history that make us see them through tunnel vision.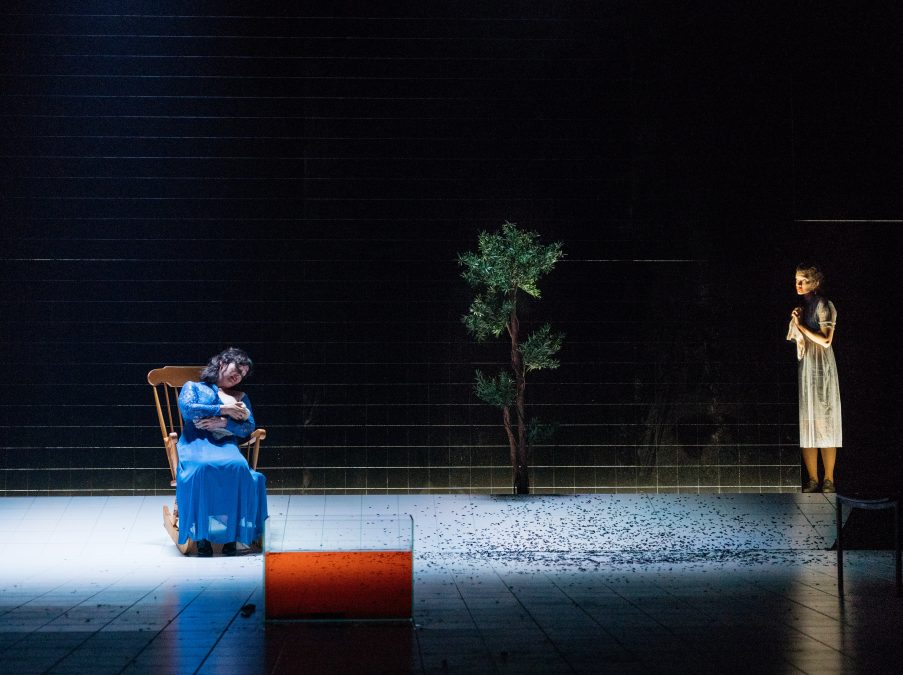 Caroline Faber and Kirsten Foster in OthelloMacbeth. Photo by Helen Murray.
There were lots of things I liked: Caroline Faber's Lady Macbeth trying to catch snow which slips through her hands like life itself; the way that the production foregrounds the dysfunctional, gaslighting relationship between Iago and Emilia (Samuel Collings and Melissa Johns, both very good) rather than between Iago and Othello, and the superb moment when the murdered or wronged women morph into the witches in Macbeth. I even liked the fact that the Macbeths have ordered in pizza for their tea.
If Christian's approach ensures that all the women silenced and rendered invisible by history and past performances of these plays are given visibility, then Kwame Kwei-Armah and Shaina Taub's musical reinvention of Twelfth Night at the Young Vic offers a heroine—Viola—who only becomes visible when she is dressed as a boy.
This is a staging which takes gleeful liberties with the text and in which jaunty end-of-the-pier jollity runs shoulders with yearning power ballads, and where the disruptive madness of carnival infects all those living on the Notting Hill Street festooned with fairy lights and bunting where Rupert Young's love-struck Orsino moons for his neighbour Olivia (Natalie Dew) who lives right across the street.
Gerard Carey's brilliantly funny Malvolio glides in on a Segway as blithely unaware of his own absurdity as he is of his pomposity; Gabrielle Brooks' Viola has a light-up-the-street smile, a constant frown of puzzlement and a gift for understatement: she mouths "Oh shit" when she realises that Olivia has fallen for her disguised as Cesario.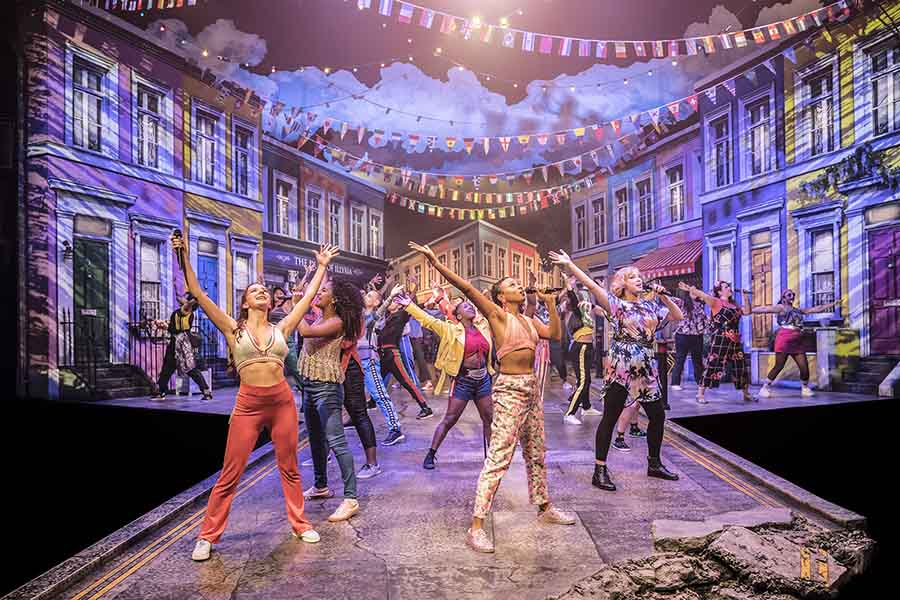 Twelfth Night's Community Chorus in action. Photo by Johan Persson
The community cast sing and dance as if born to it and keep the storytelling buoyant by offering salient plot points. At times it feels as if the entire auditorium is filling with the tinkle of broken hearts. Because almost everyone loves the wrong person. This is a production where the characters' eyes don't just deceive them but constantly betray their own desires because of where and on who their gaze lands.
As the shadows of Tim Lutkin's lighting design harden, this blissfully funny evening makes melancholy creep into your heart even though you have still got a stupid smile pasted all over your face. We are all fools for love; you'd be a fool to miss this joyous evening.