"Desire is part of our make-up," says director Clare Lizzimore, "but of course we don't act on all those desires all the time because that would be purely animal. Closer looks at what happens when you act within the bounds of civilised society and what happens when you act selfishly and behave badly."
Opening this week at the Lyric Hammersmith, and directed by Lizzimore, Patrick Marber's 25-year-old Closer tells the story of would-be writer Dan who meets the elusive Alice and how their lives and limbs become entwined with those of dermatologist Larry and photographer Anna. This revival stars Jack Farthing, Ella Hunt, Sam Troughton and Nina Toussaint-White.
"It's a play which touches on many unpalatable truths," says Lizzimore, "but I think that's what good theatre does. We may not like what it shows us, but it allows us to view ourselves as a species with clarity. I think a lot of people watching Closer will secretly be thinking 'I have those untapped desires. That's me on stage.'"
Lizzimore had just decided to step back from directing and finished writing her application to become a Thames Valley detective when she got a call from the Lyric's artistic director, Rachel O'Riordan, asking if she would like to direct a revival of Patrick Marber's Closer. The application to join the police force went unposted. That may be Thames Valley's loss but it is very definitely theatre's gain.
Even Lizzimore cheerfully admits that her career has been a bit of a slow burn. I have vivid memories of the obvious talent displayed by Lizzimore's staging of Duncan Macmillan's debut play, The Most Humane Way to Kill a Lobster, at Theatre 503 in 2005, and her brilliant follow-up, Tom Fool at the Bush in 2007. Over the years I came to realise that if Lizzimore was attached to a piece of new writing it was a sure sign of quality and I would likely be in for a treat.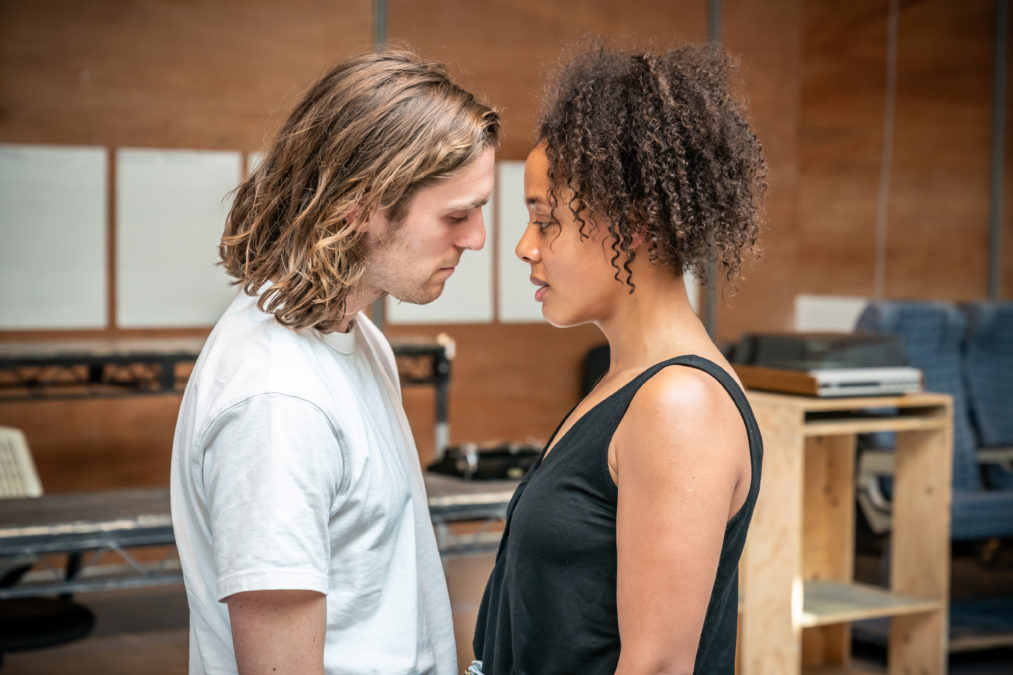 Jack Farthing and Nina Toussaint-White in rehearsal. Photo by Marc Brenner.
But even her Olivier Award for Mike Bartlett's Bull, a vicious 55 minutes of corporate backstabbing played out in a wrestling ring, which premiered at Sheffield theatres in 2013 before transferring to the Young Vic, didn't quite bring her the profile her work has proved she deserves. In a theatre culture where most directors know that the way to get noticed is to put their distinctive stamp on a classic play, Lizzimore's unswerving devotion to supporting and developing new plays means it has often been the potential of playwright rather than the director which has garnered most attention.
So, this revival of Closer, a quarter of a century after it first hit the NT's stage – shocking those audiences with its brutal sexual politics and its staging of an internet chatroom sex scene – marks a departure for Lizzimore, and it's one she is thoroughly enjoying.
"I'm almost embarrassed by how much fun I've had working on something tried and tested," confesses Lizzimore. "When you are working on a new play it is almost like being a midwife, you help to birth this thing and the challenge is to find the right visual form of the play and honour the gesture of the playwright. You are working out beat by beat where the drama is landing, the building blocks of the narrative. But with Closer that work has already been done. It's a different kind of geometry, not intervening with the text but examining how the text is framed to meet an audience."
That's crucial because how an audience responded 25 years ago is likely to be very different to how a post #MeToo audience will receive the play, which Lizzimore is keeping in its 1990s milieu. But she is taking inspiration from Brecht and Brook and promising to expose the mechanisms of theatre, something that fits well with the play's themes of deception and lies. Including lying to yourself.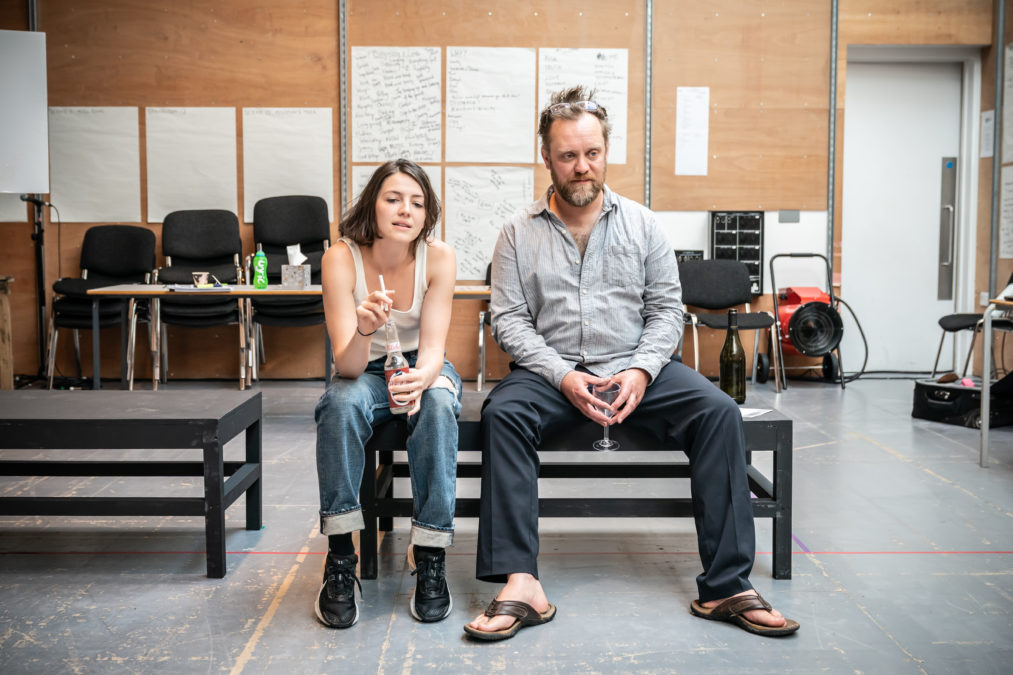 Ella Hunt and Sam Troughton in rehearsal. Photo by Marc Brenner.
"I don't think either Rachel or Patrick expected me to take this delicate four-hander and say, 'can I add a chorus and live musicians?' but to give them their credit, they've really gone with me on it."
Naturalism would be unlikely to cut it. I recently watched the film version with Julia Roberts, Natalie Portman, Jude Law and Clive Owen and felt a wee bit icky afterwards, tainted by its cruelty and misogyny.
When O' Riordan approached Marber about the rights, he was insistent that a revival should have a female director. He and Lizzimore have worked together on the play over the last year, frequently sitting reading all the roles themselves out loud, to create an edited version.
"But often when Patrick has suggested that maybe he should cut something, or update and I've gone 'no' because it's important to trust a writer's first instinct and what Patrick wrote all those years ago was a play which is bold and brave and exposing. He crystallised something that might be incredibly unpalatable for sure, and we might not like the territory, but, by God, it's real. We know its real, that's why it is so repellent. It makes us look at ourselves at our very worst. But actually, there is a lot which is very tender too. I think that maybe our theatre culture at the moment is often about putting ideologies on stage that we know that are right. I have no judgement against it. But I do think that theatre should be a space that shows us as we really are. It's not a place to bury the truth. The theatre isn't Disney."
Cover image from Closer which runs through the 13th August 2022 at the Lyric Hammersmith. Tickets found here.