What is it?
A peculiarly British and wonderfully democratic form of entertainment including men dressing as women, women dressing as men, spectacle, singing, local jokes and references, satire and slapstick. It can be silly and subversive at the same time, and while intended for family audiences it can be gloriously smutty too. Like Marmite, it tends to be a family tradition or it isn't. But it's never too late to start.
So when does it all begin?
You need to go back to the 16th century Italian tradition of commedia dell-Arte which featured a clown called Harlequin and stock characters including Pantaloon, Pierrot and Columbine. British theatre took the form and made it their own with 18th Drury Lane actor-manager David Garrick marrying the Harlequinade with English folk tales such as Dick Whittington and Robin Hood. "If you won't come for Lear or Hamlet, then I must give you Harlequin," he declared wearily. By the late Victorian period panto as we know it today had been born.

Cover of pantomime text for Jack & the Beanstalk at the Theatre Royal, Drury Lane, 1899 – 1900, England. © Victoria and Albert Museum, London
No, I meant when does it actually begin?
In those days, sometimes around 6pm and finished by midnight. No worries about the last bus in early Victorian Britain. But today, it's more like 7.30pm till 10pm.
I mean, what date does it start?
Traditionally, it would begin on Boxing Day and it sometimes went on until Easter. Nowadays it's more likely to be the end of November to early January. Slackers.
Why is it so popular?
Because it constantly changes. And because it's democratic. As Clive Rowe, one of the greatest dames of all time (currently starring in and directing Jack and the Beanstalk at Hackney Empire), says, it gets more people into the theatre "than Shakespeare, Ibsen and Chekhov combined." As the theatrical adage puts it, "you put on a panto to pay for Pinter."

Gemma Sutton, Clive Rowe and Tameka Empson in Hackney Empire's 20th Anniversary Aladdin. Photo: Tristan Fewings/Getty
If it's popular does that mean it's rubbish?
Don't be snobby. Like all theatre some will be brilliant, some turkeys, and some so-so. But it's new writing just as much as the latest play by Tom Stoppard or Caryl Churchill. That's why star writers such as Mark Ravenhill (Shopping and Fucking, and now co-artistic director at the King's Head) Joel Horwood (The Ocean at the End of the Lane, currently at the Duke of Yorks) and Morgan Lloyd Malcolm (Emilia and Mum) have embraced the form. If only Caryl Churchill would give it a whirl.
Who are the big names associated with panto?
In the 18th century, the clown Joseph Grimaldi. In the 19th century the great dame Dan Leno. Both are said to haunt Drury Lane. The 20th century saw stars including Arthur Askey, Norman Wisdom and Danny La Rue. Today you can take your pick of TV celebrities, but the undoubted panto star is Julian Clary who will be bringing dozens of double entendres and a twinkle to Pantoland at The London Palladium. How much does he get paid? Take a 10 or a 20 and add lots of zeros.
Does panto have superstitions surrounding it?
It does. The baddie always enters from stage left and the goodies from stage right. The final lines (often a rhyming couplet) is never said in rehearsal so the first time the lines are uttered are on opening night.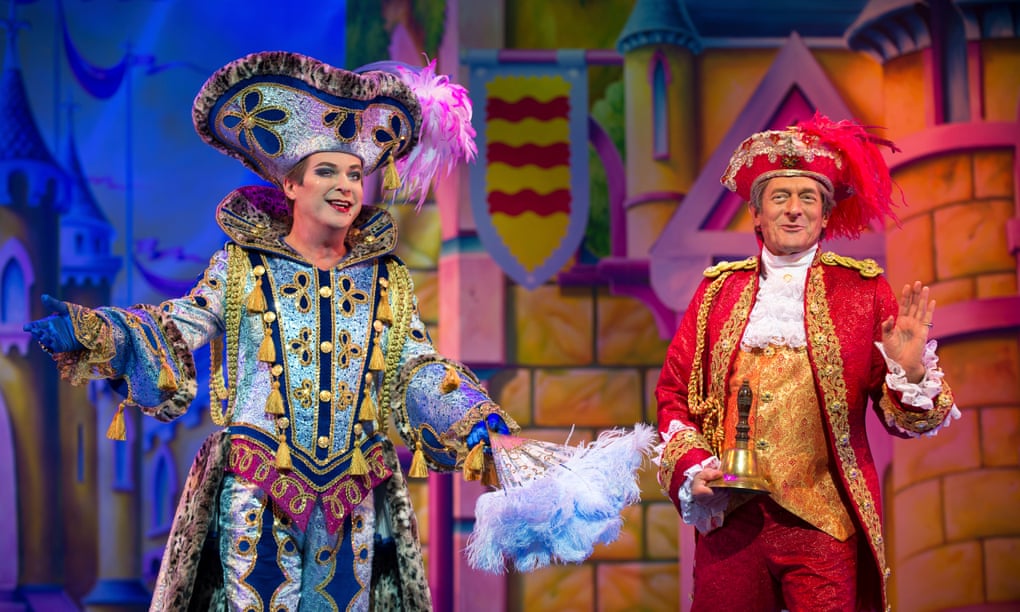 Julian Clary as Dandini and Nigel Havers as Lord Chamberlain in Cinderella at the London Palladium in 2016. Photograph: Paul Coltas and Steve Williams
What is the most popular panto?
It does change from year to year but Cinderella is the belle of the panto ball, the most performed title.
So where can I get some panto action in London?
You are spoiled for choice. Besides Pantoland at the London Palladium and Jack and the Beanstalk at Hackney Empire take your pick from Red Riding Hood at Theatre Royal Stratford East and Aladdin at the Lyric Hammersmith. Shane Ritchie stars in Dick Whittington at the New Wimbledon and Anton du Beke is in Cinderella at Richmond. Can't decide? Try Potted Panto at the Garrick.
Do Say: "He's behind you."
Don't say: Ian McKellen would never lower himself to panto (because you'd be wrong, he loves the form and once played Widow Twankey).
Cover image of Ian McKellen as Widow Twankey during a pre-Covid production of Aladdin at the Old Vic Theatre in London. Photograph: AP