Who Is he?
A thirty-four year old playwright best known for Brilliant Adventures (which won the Bruntwood in 2011), Captain Amazing (Soho, 2014) Pomona (Orange Tree 2014, then NT), X (Royal Court, 2016) whose latest play The Glow opens at the Royal Court later this month with an ace cast: Fisayo Akinade, Rakie Ayola, Tadhg Murphy and Ria Zmitrowicz. Vicky Featherstone directs. He's not prolific but he certainly knows how to spring a dramatic surprise. It makes him one of the most exciting playwrights of the moment.
What's it about?
Not an easy question to answer because McDowall is a master of deception as a playwright. Plays initially appear to be one thing but suddenly swerve violently to become something else entirely. It shouldn't surprise that Sarah Kane's Blasted—a play that smashes theatre right open like a nut-- was an early influence. In Pomona there is a character who wears a squid head for a lot of the play.

Promotional image from Pomona at the National Theatre in 2015.
Creepy!
Damn right, it was. Pomona refers to an abandoned concrete island in the middle of the M60 ring road where a shady sex trafficking operation is taking place. Or maybe it isn't. Pomona is slipprier than an eel. McDowall wrote the play after he got lost driving around the M60. The Observer described Pomona as "a fierce dystopian drama with terrific comic edge. It flashes from casual naturalism to gory horror." It is certainly one of the best plays ever written about urban anxiety, the horror that's under the shadows.
I'm all ears, give me a better idea about The Glow?
Well don't expect a rerun of Pomona. Repetition is not McDowall's style. The Royal Court says The Glow is set in 1863 and follows a young woman with amnesia who is plucked from an asylum to serve as the assistant to a spiritualist medium, a course of action which unlocks both her past and new powers.
That sounds very Sarah Waters.
Maybe, maybe not. It's possible that McDowall has an interest in historical fiction because his interests are wide from comics and graphic novels to David Foster Wallace and William Faulkner to Dungeons and Dragons. But generally, I'd say, his interests are more sci-fi and time travel than gay Victoriana.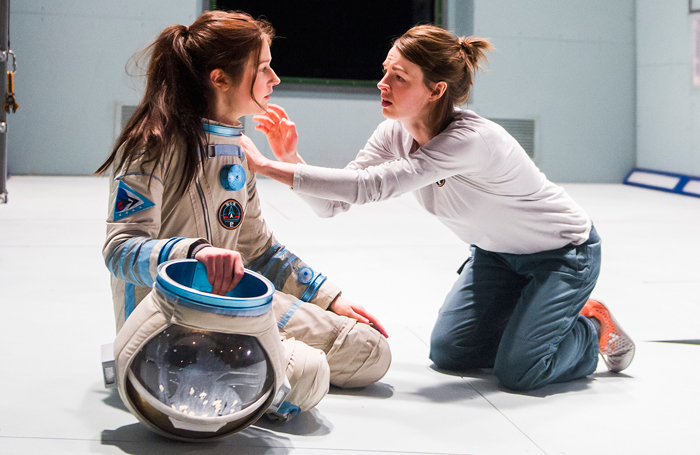 Production image from X at the Royal Court in 2016. Photo by Tristram Kenton.
Time travel? That's very Dr Who.
Exactly what some critics said about X—also directed by Vicky Featherstone—which was set on a research station on Pluto. The New Scientist, not normally known for its theatre reviews, wrote a glowing account of a play which it declared: "brings our airier science-fiction fantasies down to Earth with a sickening, gut-punching thump."
So why should I see The Glow?
Great cast, great director and a playwright who makes his own rules. The latter is far rarer than you might think. It means that while McDowall's plays may sometimes seem bewildering, they are never ever dull. And you can't say that's true of a lot of theatre.
Cover image from The Glow which runs at the Royal Court, 21 Jan - 5 Mar 2022. Tickets can be found here.